Introduction
The 2017 ACG Guidelines recommend non-invasive tests which detect current disease to diagnosis H. pylori infection in patients under the age of 55 who are not exhibiting alarm symptoms (1). Non-invasive H. pylori testing options include stool antigen testing, urea breath testing, and serology (1, 2). Laboratory directors must decide how to optimally combine test accuracy, cost, ease-of-use and time-to-result. Two new FDA-cleared immunoassays, the first in 15 years, are now available. The strong performance of these new bench-top rapid stool antigen tests and their sample flexibility offer several advantages over alternative testing methods.
H. pylori microbiology influences test design and choice
H. pylori bacteria are specialized for growth in the harsh acidic environment of the stomach (3, 4). The bacteria use flagella to propel the organism into and under the mucus layer that normally protects the epithelial cells of the stomach. Although this mucus layer is much less acidic that the lumen, H. pylori further adjusts the pH of its mucus niche. H. pylori expresses a urease enzyme that breaks down urea into ammonia to increase local pH while releasing carbon dioxide. This reaction is uncommon in other stomach bacteria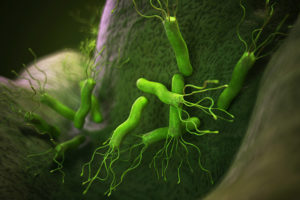 and is the basis of some testing methods (4).
Unlike many other gastrointestinal bacteria, H. pylori typically is not cultured from fecal specimens or even from endoscopic biopsy samples unless antibiotic resistance testing is required. However, antibiotic resistance is an increasing problem (5, 6). Eradication of H. pylori can no longer be assumed after standard antibiotic therapy. This has led to adoption of a Test- Treat-Test strategy in which patients undergo follow-up testing four weeks following eradication therapy to determine if the bacteria have been successfully eliminated (1, 5, 7). A non-invasive stool antigen test or urea breath test (UBT) is favored for this follow-up testing to avoid the expense and discomfort of endoscopy and biopsy for the patient. Serology that detects antibodies to H. pylori cannot be used for follow-up, as antibodies persist even after successful eradication (1).
Patients can also influence test results
H. pylori infections and associated symptoms and inflammation can wax and wane. Patients who seek medical care for symptoms are often experiencing active inflammation and may already be taking a proton pump inhibitor (PPI) or bismuth-containing antacid. These compounds can alter the reliability of both UBTs and stool antigen tests by decreasing inflammation (1).
For this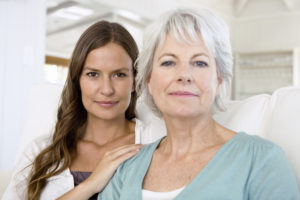 reason, UBTs require discontinuation of supportive therapies. With stool antigen testing, a positive result is reliable, a negative result in a patient still suspected of having an H. pylori infection may warrant discontinuation of supportive therapy and retesting. Not surprisingly, patients dislike stopping these supportive therapies for 10-14 days prior to testing. Compliance rates are unknown but circumstantial evidence suggests that testing laboratories may wish to request confirmation of patient PPI status.
Also, an unknown fraction of patients may have current or recent antibiotics exposure. Antibiotic treatment within four weeks prior to testing may suppress bacteria below detectable levels but not eradicate them fully. Thus, antibiotics therapy should be completed prior to these tests to avoid false negative results (1).