TECHLAB partners with health research organizations to make our products
available for clinical and epidemiological studies of diarrheal diseases.

Int'l Centre for Diarrhoeal Disease Research
The International Centre for Diarrhoeal Disease Research, a health research institution in Dhaka, Bangladesh, uses TECHLAB assays for routine surveillance screening at its diarrheal disease hospital.
The center also conducts protozoan parasite research in collaboration with TECHLAB and Dr. William A. Petri, Jr., of the University of Virginia Medical Center.
At TECHLAB, employees are family! Hear what they have to say: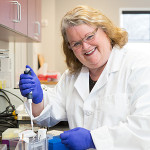 Since I began in 2000, TECHLAB® has consistently maintained a safety-conscious environment. In addition, my R&D knowledge has continued to progress by having access to the latest technologies in medical diagnostics.