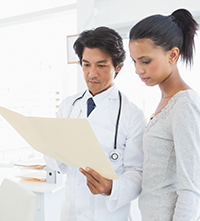 Abdominal cramps, pain, and diarrhea are symptoms common to both irritable bowel syndrome (IBS) and inflammatory bowel disease (IBD).
IBD is a chronic illness that is more difficult to treat than IBS, but it can take years for physicians and patients to gather enough information to make a correct diagnosis.
To administer a lactoferrin test, the patient need only supply a fecal specimen. Lactoferrin will remain stable in a fecal specimen for up to two weeks when stored at room temperature or at 2 to 8°C.
Lactoferrrin testing is a quick, non-invasive, inexpensive way to see if a patient truly suffers from intestinal inflammation. Lactoferrin is a glycoprotein present in activated neutrophils; when the intestines are inflamed, lactoferrin is present in very high levels.
What is Lactoferrin?
Lactoferrin is a protein found in activated neutrophils – a type of white blood cell. When the intestines are inflamed, activated neutrophils are shed into the stool.
Lactoferrin is resistant to degradation and is stable in feces for 2 weeks at room temperature, or refrigerated at 2 and 8°C.

What is intestinal inflammation?
Chronic intestinal inflammation causes a patient's abdomen to ache all the time. One cause for inflammation could be inflammatory bowel disease (IBD). IBD gets worse over time, and its severe symptoms affect the quality of life of people with the disease. The two most common inflammatory bowel diseases are ulcerative colitis and Crohn's disease.
IBD is often confused with irritable bowel syndrome (IBS), which is a disorder that affects the colon's muscle contractions. Intestinal inflammation is not a symptom of IBS, although abdominal pain may feel similar to the patient.
A Clostridium difficile infection can also cause intestinal inflammation. C. difficile is an infection that most commonly occurs in hospitals and other healthcare settings, like nursing homes. It spreads rapidly, and symptoms include watery diarrhea, fever, appetite loss, and abdominal pain.
Lactoferrin is present in the stools of people with intestinal inflammation due to IBD and C. difficile.

Can lactoferrin testing help distinguish between IBD and IBS?
Yes.
Because many symptoms of IBS and IBD are similar, it is difficult to tell the two diseases apart. Lactoferrin testing can be a first step to help physicians screen out IBS, quickly identify likely IBD patients for further testing, and assess inflammation levels for patients already diagnosed with IBD.

How can lactoferrin testing help me?
Lactoferrin testing has been the focus of many publications and well-documented clinical studies. It is a reliable, un-invasive, and inexpensive test that can aid in the diagnosis of IBD or IBS.
Results of a quantitative lactoferrin test can help determine the effectiveness of therapy, predict relapses, and guide treatment decisions.

What kinds of lactoferrin tests are available?
TECHLAB makes three different lactoferrin tests:
LACTOFERRIN CHEK®: a qualitative ELISA for high-volume, clinical laboratories and testing facilities.
LACTOFERRIN EZ VUE®: is a lateral flow rapid membrane test for smaller clinical laboratories.
Both tests are in vitro qualitative assays that measure elevated levels of fecal lactoferrin in stool specimens. Both provide a yes-or-no result for the presence of intestinal inflammation.
LACTOFERRIN SCAN®: is a quantitative ELISA that accurately and quantitatively measures the levels of lactoferrin in a stool sample. The test result can be used to help distinguish patients with IBD who will have elevated levels of fecal lactoferrrin, from those with IBS.

Can lactoferrin testing help diagnose the cause of intestinal inflammation?
A positive result from a lactoferrin test can alert a physician to possible IBD. A negative result could signal a functional disorder like IBS.

Can lactoferrin testing help with managing IBD?
If a patient is already diagnosed with IBD, testing lactoferrin levels can help predict a flare up, as lactoferrin levels rise before other symptoms may appear. Lactoferrin testing can also help determine if a disease management plan is effective.
---


Have more questions?
Our lactoferrin brochure covers the benefits of lactoferrin testing and the differences of our lactoferrin diagnostics.
Email us at lactoferrin@techlab.com
Click Here to Learn More About Lactoferrin Testing
---
Products

How does lactoferrin testing compare with other technologies?
Lactoferrin is highly stable in stool, and its levels will not change for up to two weeks when samples are stored at either room temperature or at 2 to 8°C.
Lactoferrin's stability exceeds all other FDA-cleared fecal biomarker assays.
There are other fecal biomarkers that indicate intestinal inflammation, but those leukocytes can fluctuate due to smoking, obesity, lifestyle modifications, time of testing, and medication the patient may take, such as proton pump inhibitors.

As a physician, why should I incorporate lactoferrin testing into my practice?
If you have patients with ulcerative colitis, Crohn's disease, irritable bowel syndrome, or other chronic intestinal diseases, lactoferrin testing can be an accurate, cost-effective way to help identify a diagnosis and prescribe treatment.
Lactoferrin testing is not intended to replace endoscopies, but it can be a first step to help you determine if an endoscopy is necessary. Lactoferrin testing can also help confirm endoscopic findings.

Who is a good candidate for lactoferrin testing?
Anyone with chronic bowel problems is a good candidate for lactoferrin testing. Especially patients with abdominal pain who may have undiagnosed IBS or IBD, or a patient with IBD who may be having a flare-up.

What are specimen requirements?
: A stool specimen collected in a cup can be tested. Specimens can be kept at room temperature or refrigerated at 2-8°C for up to two weeks before being tested.

Will my insurance cover this test?
: Yes, lactoferrin testing is covered by most insurance plans.
| Product Name | Catalog # | Suggested CPT Code* | Tests/Kit | Analyte(s) Detected | Format | Time to Result | Fecal Sample Type |
| --- | --- | --- | --- | --- | --- | --- | --- |
| LEUKO EZ VUE® | T30355 | 83630 | 25 | Lactoferrin—marker for fecal leukocytes & indicator for intestinal inflammation | Lateral Flow | < 10 min | Fresh fecal sample (unpreserved) |
| LACTOFERRIN SCAN® | T5009/30351 | 83631 | 96 | Lactoferrin—marker for fecal leukocytes & indicator for intestinal inflammation | Microplate ELISA | ~ 75 min | Fresh fecal sample (unpreserved) |
| LACTOFERRIN CHEK® | T5008/30352 | 83630 | 96 | Lactoferrin—marker for fecal leukocytes & indicator for intestinal inflammation | Microplate ELISA | ~ 75 min | Fresh fecal sample (unpreserved) |
| LACTOFERRIN EZ VUE® | 30353 | 83630 | 25 | Lactoferrin—marker for fecal leukocytes & indicator for intestinal inflammation | Lateral Flow | < 10 min | Fresh fecal sample (unpreserved) |
| ASCA-CHEK | T5016/30361 | 83520 | 96 | anti-S. cerevisiae antibodies | Microplate ELISA | ~ 75 min | Fresh fecal sample (unpreserved) / Serum |
TECHLAB manufactures several diagnostics that detect lactoferrin and other markers of inflammation in the bowels