The SHIGA TOXIN QUIK CHEK test is a rapid membrane enzyme immunoassay for the simultaneous qualitative detection and differentiation of Shiga toxin 1 (Stx1) and Shiga toxin 2 (Stx2) in a single test device. It is intended for use with human fecal samples from patients with gastrointestinal symptoms to aid in the diagnosis of disease caused by Shiga toxin producing Escherichia coli (STEC). It may be used with fecal specimens, or broth or plate cultures derived from fecal specimens.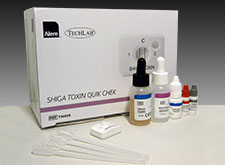 To perform the SHIGA TOXIN QUIK CHEK test, specimen is added to a tube containing a mixture of Diluent and Conjugate. The diluted sample-conjugate mixture is added to the QUIK CHEK Sample Well and the device is allowed to incubate at room temperature for 15 minutes.
During the incubation, Stx1 and/or Stx2 in the sample binds to the antibody-peroxidase conjugates. The toxin-antibody-conjugate complexes migrate through a filter pad to a membrane where they are captured by immobilized monoclonal antibodies in the test lines. The Reaction Window is subsequently washed with Wash Buffer, followed by the addition of Substrate and a 10 minute incubation period.
The Stx1 reaction is examined visually for the appearance of a vertical blue line on the left side ("1") of the Reaction Window. The Stx2 reaction is examined visually for the appearance of a vertical blue line on the right side ("2") of the Reaction Window. A positive control reaction, indicated by a vertical dotted blue line under the "C" portion of the Reaction Window, confirms that the test is working properly and the results are valid.
Further Information
Features
Patents #5,747,272 and #8,343,726
Direct fecal specimen testing in a rapid assay format
Diagnosis up to 24 hours sooner than culture or other traditional methods
Differentiation of Stx1 and Stx2
Results in less than 30 minutes
Specific monoclonal detection of Stx1 and Stx2
Strong correlation with Vero cell cytotoxicity assay
This product is available exclusively through our global distributor, Alere.